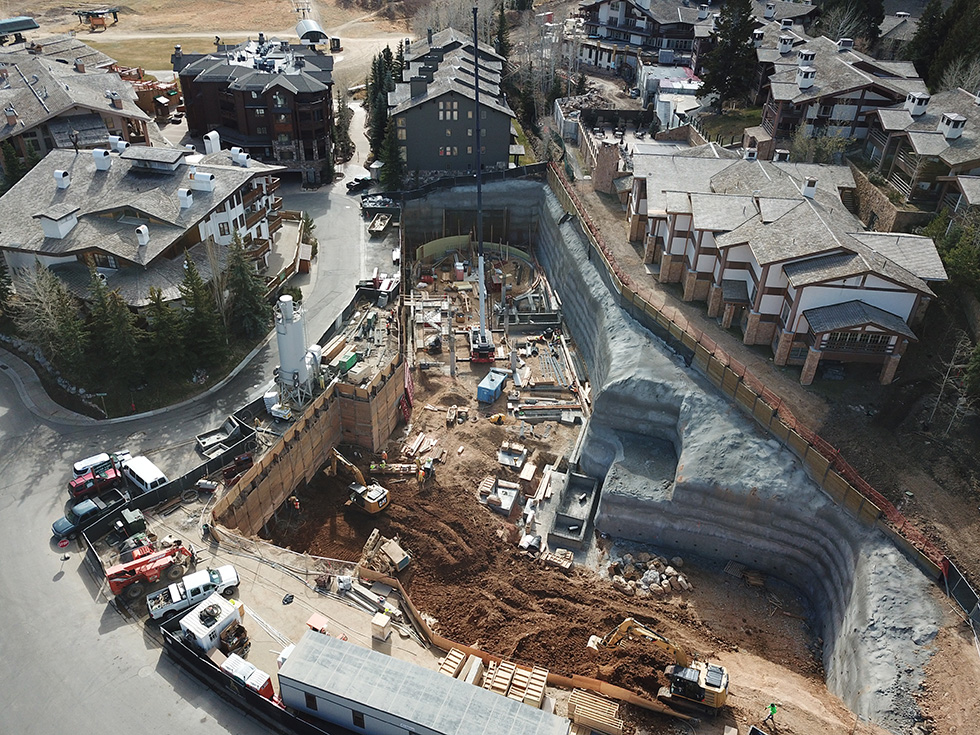 The Residences at Goldener Hirsch is the first and last new offering in over a decade at Silver Lake Village. As the center of the resort, there is an excitement in the community to finally have a new construction development completing the last piece of the puzzle for this pedestrian friendly Village.
Since our groundbreaking on July 28, 2018, the construction team at Okland Construction and our development team from Utah Development and Construction has safely and diligently removed over 30,000 Cubic yards of soil. In its place we have constructed shoring and retention walls to allow our teams to safely build the state of the art garages and mechanical rooms and foundations that will support the forty Goldener Hirsch residences and building amenities, including the highly anticipated rooftop pool and cantilevered hot tub.
To date over 10% of the concrete sub and superstructure has been poured and we will be averaging close to an additional 900 yards per month for the next year as the buildings lift themselves up 64 feet above grade. Early this week our second crane capable of lifting over 150 tons will arrive on sight. Over the course of the winter this crane will actually be used to remove the original 90 ton 55 meter crane from the garage excavation.
December and January will mark the topping out of the two main elevator shafts and we will be commencing the toping out of the garage slab towards the first of the year.
For questions on this exciting new project, please contact our Sotheby's sales team: Patti Wells 435.901.4300 or Sean Matyja 435.901.2158